I'm Kubilay Serbes and, being a thenex Sales Assistant, I was happy to accompany Mr. Peter Schulte, Sales Manager & Director at thenex, on a business trip to Trinidad & Tobago the 12th of February.
Since I started working at thenex in the thenex Trinidad and Tobago sales team, I was curious how Mr. Schulte – who has over 27 years in this business – works, when visiting our clients in Trinidad. I also saw this trip as a great chance to get to know our clients personally and to finally visit one of the most important sales markets of our company. And it is also an interesting experience to personally meet the people I only knew from telephone and Email contact.
After a long flight and arriving at the Hotel in the evening we had a very warm and friendly welcome in Trinidad and started work the next day immediately. First we visited an awesome UREA Fertilizer and Ammonia productions plant located at the Point Lisas Industrial Estate. For safety reasons, I had to shave off my beard before entering the plant. Therefore, a quick visit to the closest supermarket was necessary to buy disposable razors first and give myself a new "look"!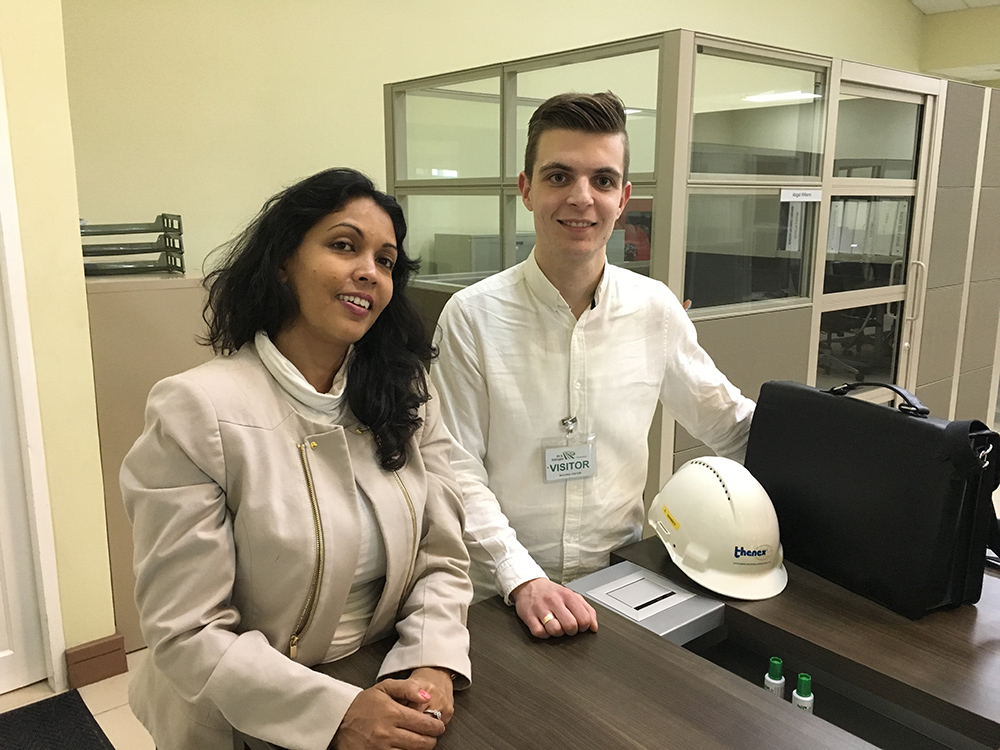 Together with our Local Sales Executive
Mrs. Badal
we said hello to the purchasing department. Things became really exciting when I saw the portal scraper made by
Schade Lagertechnik
for the first time. I was fascinated to be so close to that giant machine. Of course, no way to get in there without safety helmet and glasses, things I never have to wear in our office!
A relaxing and well-deserved dinner at our hotel completed this very interesting and informative first day in Trinidad – far away from cold Bocholt, Germany. Right from the start I was impressed by the country's beauty!
Next day, we took the freedom to have a typical Trini breakfast on the way – "Doubles" – to our next customer a combined cycle power generation plant, where we were shown the entire plant, which was another compelling experience.
But there was more to come and to see: On the same day, it was a special treat to be able to visit
Pitch Lake
next, the largest natural deposit of asphalt in the world at La Brea in southwest Trinidad. Pitch Lake has not only attracted tourists from all over the world, but many explorers and scientists as well, since its discovery in the 16th century. Therefore, I was not the only one to be totally overwhelmed by this wonderful natural phenomenon! Look at the photo and you can see the sticky tar!
We also visited the best regional Brewery, where we enjoyed a technical brewery tour. No question, it's always fun to see how good beer is brewed and produced, before reaching consumers around the world!
During the following days, we called on two more customers. It was exciting to pay a visit to a three-plant ammonia production facility and a deepwater port in central Trinidad.
Next on our list was an older power generation plant, operated with gas turbines. As you can see on the photo: Never without our thenex safety helmets!
The day ended with a video conference with thenex management in Bocholt, giving them a short report on our proceedings in the Republic of Trinidad and Tobago.
Before we flew back to Germany we had some time off: Friday, 17th February we spent some time at the amazing
Army Fete
, which is part of Trinidad & Tobago carnival happenings. And Saturday we went to
the Blue Range
venue, enjoying another really good event evening.
Purpose of this business trip was to improve contact with our customers and to find out, how we can help them more. I think we have more than succeeded! For me it was very exciting to visit all these huge industries and meet all these nice people. I have learned that nothing can replace personal contact with our key partners on-site. I also gained greater insight in the urgency of supplying and procuring material that is needed by our customers.
Looking back at this business trip to Trinidad and Tobago, I can just say that I was fascinated from the beginning to the end, not only by the many companies and plants we visited, but by this beautiful and very hospitable country as well. I can only hope to travel through the Caribbean again soon!
To be continued!
Kubilay Serbes
A few notes from Mr. Peter Schulte: For me it was a great experience to see the young generation in contact with our clients. thenex is a great and growing company and I am happy and proud to share my knowledge with young people like Kubilay. He did a great job and for me it is just as interesting to hear how he sees the job and today's business. I can still remember my first trip in 1995 when my Mentor and Predecessor took me to Trinidad! 
Peter Schulte