THE IPOS™ ELBOW-CONTIFLOW SYSTEM!
With the ELBOW-Contiflow system, the IPOS™ Engineering team has succeeded in developing an effective, completely silent and maintenance-free silo discharge and delivery aid, which optimizes your plant availability and prevents production stoppages by clogging and caking in silos, pipelines, cyclones, sieves and spray dryers to almost zero.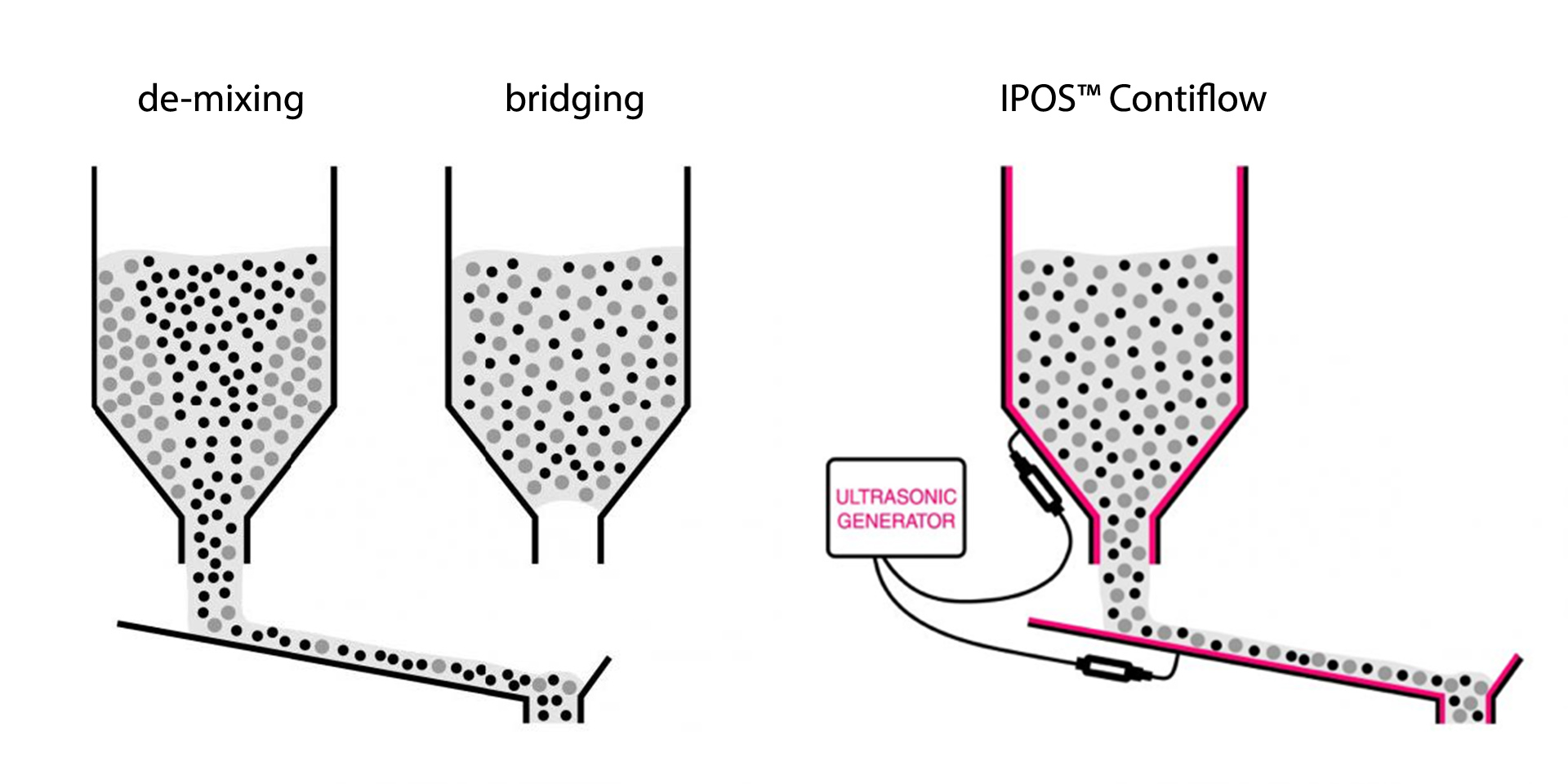 reduce your production downtime
reduce your maintenance cost
reduce your energy cost
reduce your noise levels
Ultrasonic discharge aid – IPOS™-ELBOW-Contiflow
An innovative ultrasound-based solution for the mobilization of all kinds of bulk goods.
The function
Removal of static friction and sliding friction between powder and metal surfaces through direct high-frequency contact stimulation.
The result
Solids mobilization, continuous and reproducible material flow. Avoidance of caking, incrustations and clogging, no segregation.
Your advantages:
Noiseless, easy assembly from the outside, gentle on materials, efficient, retrofittable, does not compress the material.
Our service
Qualified advice, tests on site, tests in the laboratory, installation, commissioning, optimization, remote maintenance, service and downtime maintenance, spare parts service.
Application examples
Sieving machines, pipes, weighing systems, containers, cyclones, containers, mixers, spray towers, fluid bed coolers, dosing devices.
Our customers
Food, fine chemicals, pharmaceuticals, chemicals, building material production, laboratories, general bulk industry.
HOW DOES IPOS™-ELBOW-CONTIFLOW WORK?
Functionality of solids stimulation using ultrasonic structural excitation

Our stimulation takes place on the resonance high-frequency technology you are already familiar with. The structures to be excited such as pipelines, apparatus, mixers, screw conveyors, weighing hoppers, containers and silos are made to vibrate almost silently using an ultrasonic converter.
 In the contact situation (boundary layer) between the bulk material and, for example, the inner wall of the container, the static and sliding friction forces are eliminated, so that even substances that are extremely unwilling to convey or flow are transferred into the sliding state. Even quartz sand moistened with water begins to flow on inclined planes due to the sound. We would be happy to demonstrate the function to you in a field test on site. (see test offer)
How does the IPOS™ ELBOW Contiflow solids mobilization work?
Here, using ultrasound, a converter with piezoceramic elements and a welded coupling part the static and sliding friction forces in the sonicated structures are almost completely eliminated, so that difficult bulk goods or powder can flow continuously and no blockages can form in silos, containers, pipelines and apparatus, etc.
Your advantages:
Compressed air knockers, ball knockers and unbalance motors are dismantled and replaced,

 

maintenance free
noise pollution free (no structure-borne sound transmission in building structures)
no regular examination of the building/structure statics required
no more cracks and damages in building/structures
maintenance-free operation of the system
no wear and tear of mechanical components
low power consumption
no compressed air consumption
Simple assembly – no serious intervention necessary

 

The setting of the ultrasonic power is continuously possible, i.e. the parameters are adapted to the individual structure and bulk material.

 
The ultrasound bandwidth is 30 – 38 KHz with an effective power of 40 – 200 W (see diagram). 
The devices are available with ATEX certificate (Dust-Ex 21 + 22, Gas-Ex 1 + 2) and can be used in accordance with FDA / EHEDG used in the food industry.
More information? Contact us here!
Or download our IPos™ product leaflet (PDF) here: IPos™ Leaflet A5 021220
NEWS ON BULK MATERIAL SOLUTIONS
With the ELBOW-Contiflow system, the [...]